Nose job(Rhinoplasty)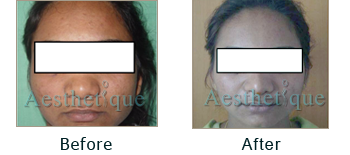 Medical Term: Rhinoplasty
Rhinoplasty, commonly known as "nose job," reshapes and improves the appearance and proportion of your nose, enhancing facial harmony and self confidence .A specific aspect/part or the whole nose can be reshaped.
Benefits:
Desired nose shape achieved.
Results seen within a week when the dressing is removed.
No cuts or stitches on the outside.

Candidacy:
This surgery can change:
Nose size, in relation to the other facial structures
Nose profile, with visible humps on the bridge
Nasal tip, that is large or bulbous, drooping, or too upturned
Nostrils that are large, wide or upturned – can be narrowed.
Nasal asymmetry and deviation
A flat/depressed nose – can be raised. (Augmentation rhinoplasty: It is performed to increase the projection of the nose. Implants that are made from synthetic materials are used. People with a flat nose who wish to have a sharp nose are the best candidate for augmentation rhinoplasty.
A droopy nose tip – can be upturned.
A small nose – can bee enlarged.
A crooked nose – it can be straightened. This is the most common procedure done at our center. The structure of the nose may have been broken down due to disease, trauma, birth defects, repeat surgeries, and even from prolonged drug use. These deformities can be corrected with implants that can be made of either synthetic or natural materials.
Procedure:
Anesthesia: It can be performed under general anesthesia or local anaesthesia with sedation.
Duration of procedure:It usually takes around 40 minutes for the procedure.
Incision: The parts of the nose to be altered are accessed through the nostrils, so there are no tell tale marks. In some cases a small incision is made under the nose. (Above the lips).

Inpatient/Outpatient procedure:
It is usually an Outpatient procedure i.e. the patient can go home the same day.
Recovery:
Back to work: 1 to 2 weeks.

More strenuous ativities: 2 to 3 weeks.
Avoid hitting nose or sunburn: 8 weeks.
Final appearance: 1 year or more.
All the stitches are self dissolving.
Duration of results:
Permanent.